Cloud Hosted Business 2 Business System - Pyramid B2B
Pyramid B2B is a cloud hosted Business 2 Business System written for Trade Distributors consisting of Warranty Claims, Warranty Activations, Electronic Parts Catalogue, Dealer Assets, Statements, Parts Orders & Basket. Pyramid B2B brings together a complete suite of modules dedicated to managing every aspect of a Trade Distributor.
WARRANTY CLAIMS
Allows dealers to post warranty claims, consisting of:
• Vehicle Details
• Vehicle Owner Details
• Parts required -> Fault Description, Fault Code, Labour Time, FRT, Stock Availability, Despatched Information
• Claim Description
• Notes
• Messages
• Images

The claims are controlled with a Claim Status:
• Approved Rejected
• Pending
• Accepted Awaiting Parts
• Vehicle Off Road
• Complete
• Closed

You can print the Claim details onto a PDF
WARRANTY ACTIVATIONS
Allows your dealers to activate warranties with:
• Date of Registration
• Delivery Date
• Registration Number
• Make
• Model
• Frame Number

Warranty activation captures the buyer details including address, telephone, city, postcode that can be reported on. The dealer can also update the Service history each time the vehicle is serviced for a full-service history database.
ELECTRONIC PARTS CATALOGUE
The electronic parts catalogue allows your dealers to order parts and accessories easily by navigating your entire range of vehicles, broken down into Engine & Frame with schematics diagrams and HTML coordinates for click to basket ordering. We provide a template excel spreadsheet and example ZIP file that you need to create for each model of vehicle that can be uploaded to the B2B system.
PARTS ORDERS
Allows the dealers to view the outstanding orders consisting of:
• Order Number
• Date
• Status
• Items on Back Order
• SKU
• Description
• Qty
• ETA Date
• Tracking Number


DEALER ASSETS
Allows the dealer to access, imagery, company branding, logos, manuals that you can easily upload and manage.
DEALER STATEMENTS
Providing your DMS is integrated or your using Pyramid DMS your dealers can view and print invoices and credits and access a live statement of account from the Sales Ledger in your DMS.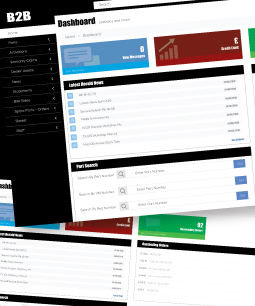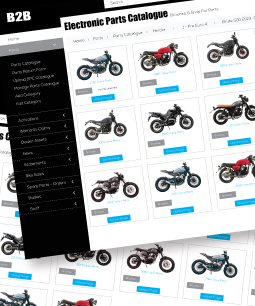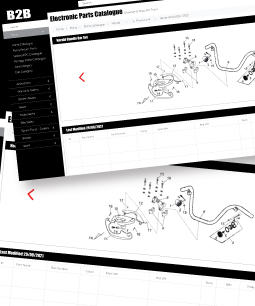 Pyramid Business 2 Business System
Contact us now to book an on-site consultation and demonstration of Pyramid B2B
What Our Customers Say About Us
" Changing your Dealer Management System is not a light decision. Since moving to Pyramid DMS we've never looked back "
" A great system and intuitive to use, enables us to run our business smoothly. Support and advice is first class. Truetrack's system gets the job done with no fuss, so glad we moved over to Pyramid "
" Since Migrating our DMS to Pyramid we have never looked back, Great System, Great After Sales Support, Great Company "
" True Track Software have delivered a Dealer Management System that has exceeded our expectations! "
" True Track Software have delivered a comprehensive and easyto use DMS and B2B online business portal and a lot more...1 year on and very happy with True Track Software and look forward to the future and further developement. "