True Track Software Staffordshire
Case Study
Helmet City
Helmet City is a UK-based stockist of motorcycle helmets, boots and clothing. They have 7 major showrooms across the UK, selling the complete range of Shoei helmets, Arai helmets and Schuberth Helmets, plus Shark, HJC, AGV, Bell, Caberg, Viper, Nolan, X-Lite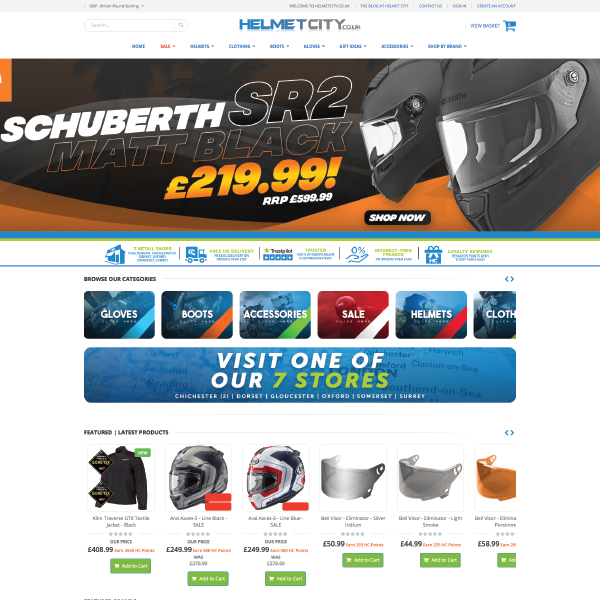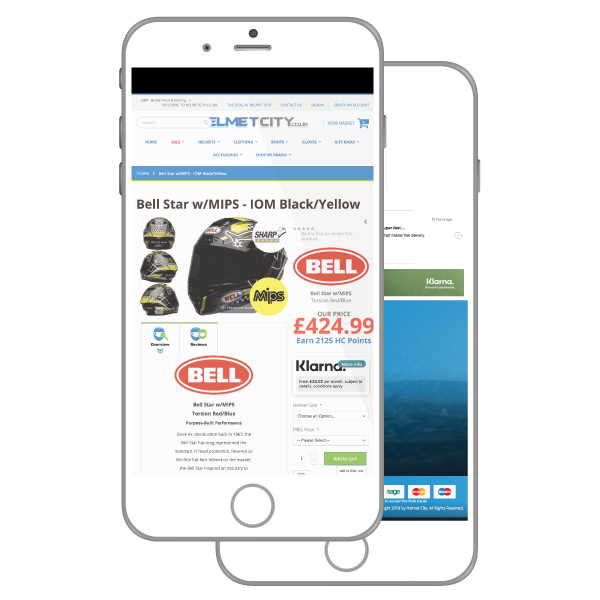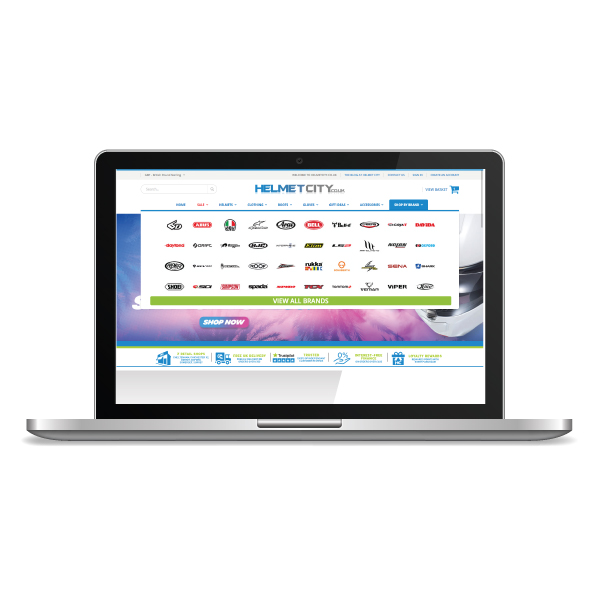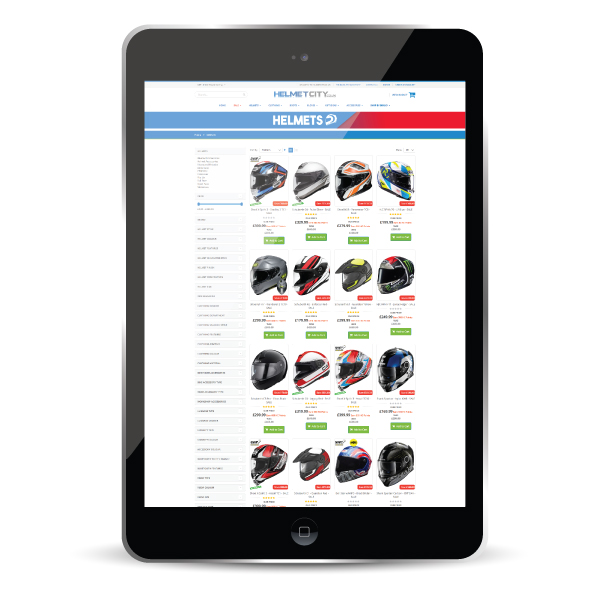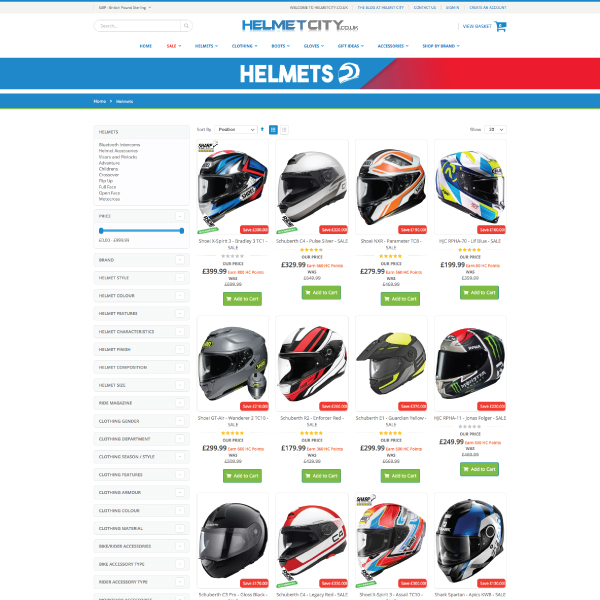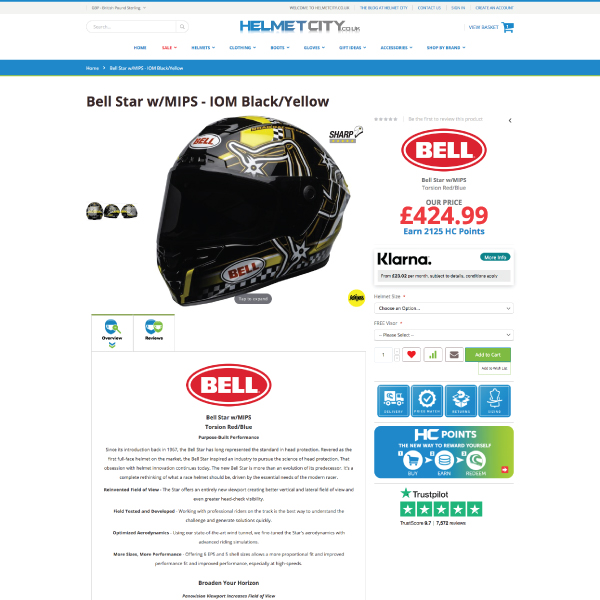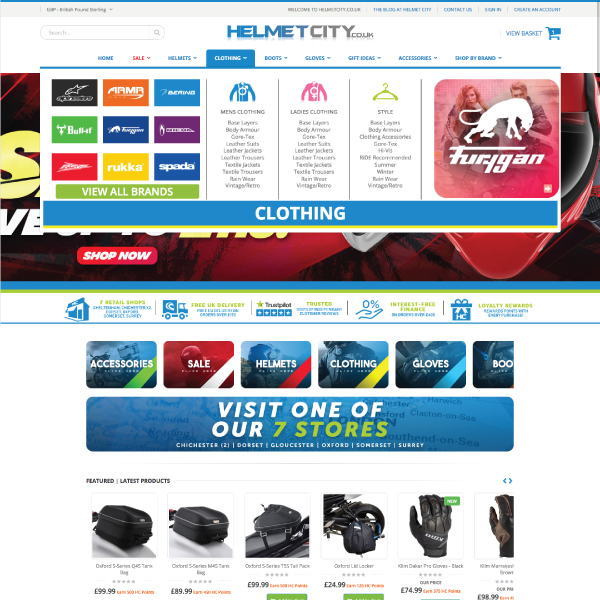 ---
Helmet City
Helmet City is a UK-based stockist of motorcycle helmets, boots and clothing. They have 7 major showrooms across the UK, selling the complete range of Shoei helmets, Arai helmets and Schuberth Helmets, plus Shark, HJC, AGV, Bell, Caberg, Viper, Nolan, X-Lite
When we engaged with Helmet City their website was sitting on a BigCommerce platform, with an outdated design and wasn't mobile friendly. It was also lacking user experience with a complicated category and product navigation and basic product search. Despite the website not meeting todays best practices, the domain authority and page rankings were exceptionally high, qualifying for one of the most premium based ecommerce sites in the UK within the motorcycle industry. Therefore it was imperative that we retained their google rankings when we performed the migration over to our technology. Finally we identified that they would benefit from an integrated stock management system to streamline workflow and maximise product sales with an integrated stock control.
We choose Magento for the ecommerce platform, Pyramid DMS as the stock management system and a Dedicated Server due to the high volume of traffic and product data.
12 Months on and Helmet City Sales are growing month by month and the site now offers a full mobile responsive user experience, finance options, Reward Points, Shop By Brand, Filter By Price, Size and Unlimited Product Attributes and along with other backend modules to streamline their work flow.
---
Our strategy
HOW WE WORK
1
We consult with you to find out your exact website and business requirements breaking this down into Catalogue Size, Payment & Shipping Methods, Social Media, Visual Design & Features, 3rd Party Module Integration, Search Engine Optimization, Hosting & Domain, Budget and Time-scale. Once you are happy we understand all of your requirements and the specification is agreed, we put together a quote outlining the project in detail along with an estimated time-scale, mile stone payment options and the work involved for each stage of the project.
2
We then construct a development website and consult with you through out the build process allowing you to have input in the full development cycle of your website. We also provide full training of the backend procedures and functionality to ensure your equipped and ready to deal with processing orders and other features of the ecommerce platform.
3
Once the project has been signed off by both parties we'll take of the website launch ensuring the least amount of down time and impact on your business. There can be a number of technical challenges with emails, domains and SSL certificates when launching a new website that your business can not afford to be affected by. We have a lot of experience in dealing with such matters and provide a profesional mirgation package whilst keeping you informed along the way. If you're migrating from an old website, we also take care of any 301 re-directs to ensures your existing websites google search results are not lost Finally we provide a comprehensive aftersales package of support and maintenance to ensure your website is functional and supported after it's launched.
---
What Our Customers Say About Us
" The team at True Track are professional, efficient and friendly. Nothing is too much trouble and they're happy to answer any questions, even the ones I would consider "Silly". We looked to True Track to supply our DMS and, when finding out that they also did web design, I asked them for 2 websites. We now have user friendly system and 2 very attractive websites. Not only are we happy but our customers are too! "
" Leader CNC Technologies have been working with TrueTrack Software for many years and have always found they're the best around. The team are exceptional and are always happy to assist with any queries that we have and I would recommend them to any company for website and e-Commerce solutions. They always go above and beyond to help us and a special thank you to Graeme and Jack "
" Since Migrating our DMS to Pyramid we have never looked back, Great System, Great After Sales Support, Great Company "
" True Track Software have delivered a Dealer Management System that has exceeded our expectations! "
" True Track Software have delivered a comprehensive and easyto use DMS and B2B online business portal and a lot more...1 year on and very happy with True Track Software and look forward to the future and further developement. "
True Track Software
We offer web design and e-commerce solutions for customers wanting a website, ranging from a simple site to promote their business, to a full e-commerce sales platform for marketing and selling their products.